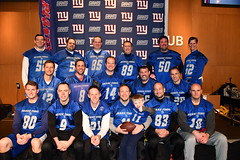 We've said it once and we'll say it again, this is not just a flag football tournament. Teams that participate in Snow Bowl are here to raise funds for the athletes of Special Olympics New Jersey and WIN! Whether a team is a coed team, recreation team or competitive team, these players come out and give it their all. We are impressed every year by the level of sportsmanship and competition by all teams but would like to recognize this year's division winners.
2018 Division Winners
Friday
Saturday
Sunday
2018 Fundraising Award Winners
Congratulations to our three Top Fundraising Teams! These teams were based on total team donations as of 10:00am on Thursday, March 22.
1st Place – Shark Finns ($26, 904.20) – Winner of 15 tickets to a preseason game and on-field recognition
2nd Place – Howitzers ($15,728.21) – Winner of 15 tickets to a preseason game and pregame field passes.
3rd Place – Leegion ($15,521.88) – Winner of 15 VIP passes to the NY Football Giants training camp
We appreciate ALL of the teams' fundraising efforts!